Pontential N.H. -8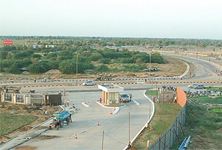 Within a few years, India will set-up a hi-tech city like Shanghai or New York as master plans are ready for seven brand new cities spanning six states. This will be the biggest urban development project since Chandigarh was built in 1953.As more people shift from agriculture to industry and services, cities are facing a massive influx of migrants. Given limited capacities, urban infrastructure is bursting and, therefore, the need to build new cities.
It is in this backdrop that DMIC's project to build new futuristic cities, assumes significance. On completion, they will boast of state-of-the-art infrastructure with centrally integrated civic services such as water, power and sewage disposal. This ambitious project has also opened up an array of investment opportunities for foreign players, private equity funds and domestic investors. A large number of projects, ranging from road works and waste management to power generation and development of airports, will come up in the public-private-partnership (PPP) model.The total investment entailed in the project is estimated to be in the range of around $100 billion (`4,43,000 crore) that will be spread across many years. The project is expected to finish by 2018. Around six power projects that have been envisaged under DMIC, all the approvals have already been obtained. In addition, a solar power project, two airports in Neemrana and Dholera, a mass rapid transport system and water recycling projects are the integral part of DMIC.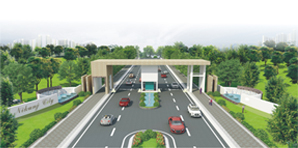 Delhi-Mumbai Industrial Corridor is a mega infra-structure project of $100 billion with the financial & technical aids from Japan, covering an overall length of 1,483 Km between the political capital and the business capital of India — Delhi and Mumbai. Passing through six states — UP, NCR of Delhi, Haryana, Rajasthan, Gujarat and Maharashtra — the corridor will be a buzzing industrial centre.
This Dedicated Freight Corridor envisages a high-speed connectivity for High Axle Load Wagons (25 Tonne) of Double Stacked Container Trains supported by high power locomotives. The Delhi-Mumbai leg of the Golden Quadrilateral National Highway also runs almost parallel to the Freight Corridor. This corridor will be equipped with an array of infrastructure facilities such as power, rail connectivity to ports en route etc. Approximately 180 million people, 14 per cent of the population, will be affected by the corridor's development.
This project incorporates nine mega industrial zones of about 200-250 sq km, high-speed freight line, three ports and six air ports; a six-lane intersection-free expressway connecting the country's political and financial capitals and a 4,000 MW power plant. Several industrial estates and clusters, industrial hubs, with top-of-the-line infrastructure would be developed along this corridor to attract more foreign investment. Funds for the projects would come from the Indian government, Japanese loans, and investment by Japanese firms and through Japan depository receipts issued by the Indian companies.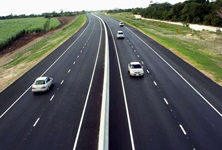 This high-speed connectivity between Delhi and Mumbai offers immense opportunities for development of an Industrial corridor along the alignment of the connecting infrastructure. A band of 150 km (Influence region) has been chosen on both sides of the Freight corridor to be developed as the Delhi-Mumbai Industrial Corridor. The vision for DMIC is to create strong economic base in this band with
globally competitive environment and state-of-the-art infrastructure to activate local commerce, enhance foreign investments, real-estate investments and attain sustainable development. In addition to the influence region, DMIC would also include development of requisite feeder rail/road connectivity to hinterland/markets and select ports along the western coast.
It is also envisaged that the alignment of the proposed corridor will have nine junction stations for exchange of traffic between the existing railway system and the DFC.