Nikunj City Strategic Location
Flourishing NH-8 Delhi-Jaipur Highway
One of the foremost flourishing destinations for industry as well as the real estate, both residential and commercial, that is providing large prospect to the investors, is Delhi-Jaipur Highway. Apart from being an established industrial belt, NH-8 is offering potential to earn immense profits in real estate too.
Neemrana-Behror
In due course of time, Neemrana-Behror on NH-8 Delhi-Jaipur Highway has gained plenty of mileage each within the area of resident ial and commercial developments. This has created a best investment opportunity for the investors who are probing for the massive returns.
Industrial & Investment Promotion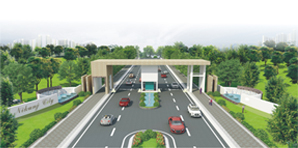 With industrial and investment policies of the government to encourage investments in socio-economic infrastructure, this preferred investment zone is fast catching the attention of the investors. The keen interest of the investors here has also urged the authorities to focus on identification of new industrial areas, revival of sick units & setting up of new SEZs. Behror has been an industrial town since 90s and comes under RIICO with a number of large and small industries running successfully. The state authorities are also quite upbeat to promote investments in this belt, which comes under DMIC, with inputs from the private sector.
NH-8 : Lifeline of Northern India
connecting New Delhi to Mumbai... centre point of India