Strategic Location
Situated on Delhi-Jaipur NH-8, roughly midway between Delhi and Jaipur, Nikunj Garden is strategically located in the lap of DMIC and Japanese Investment Zone. The ongoing industrial boom is directly boosting the real estate in the area. With multi-dimensional development going on in the region, investments here are sure to yield high returns.
DMIC – A Vision for Development
A strong economic base with globally competitive environment and state-of-the-art infrastructure to activate local commerce & enhance foreign investments led to the creation of DMIC to attain sustainable development. Stable regulations, well-developed communications and efficient transportation systems are some of the benefits which are the result of this development. Also, the pro-business environment has paved the way for the huge potential for growth and development.
Japanese Investment Zone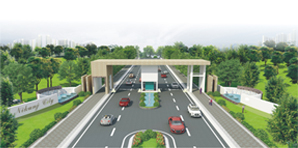 In Neemrana, due to its strategic location and available resources, the Japanese companies have acquired an area of approximately 1200 acres to set up industries. In this Japanese zone, Japanese companies have set up units in around 70 percent of the area. Rest 30 percent part is expected to be filled up within the next few months. Honda Motorcycles and Scooters India Ltd, Honda Siel Cars Ltd., Nissin Brakes India Ltd., Mitsui, Daikin, Immasin, Toyoda Gosei, DainiColour and Mikuni India are some of the major industries which have already invested thousands of crores into this region, generating employment and thereby creating a strong need for housing developments.